It's hard to think of World War II board games without thinking of Axis & Allies. It is not the oldest of the war games but it has had a huge impact on the world of war and is a surviving classic of many of the companies that originally produced it.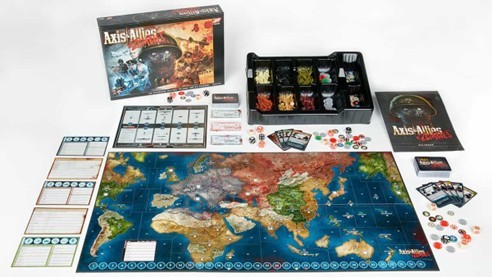 First production:: 1981

Number of players: 2 - 5

Age: 8+

Time: 90 minutes

Genre: Exploration – Strategy – Cooperation
Up to now, Axis & Allies board game has been popular in 120 countries around the world. This shows how great an appeal this game has. The game context will bring players back to 1941 when you become a brilliant political strategist and seek to expand your territory. The winner is the one who captures the opponent's stronghold. If you're amid the Allies, you need to capture Berlin and Tokyo. Conversely, if you are an Axis army, you must defend your city, and capture Germany must capture Moscow.
Axis & Allies helps players experience 2 historical lines 1942 and 1941 - two significant milestones in world history. The map part of this board game is also a feature that makes it so popular. It will arouse any player's ambition to dominate.
For history buffs, Axis & Allies is a good choice. However, this game is quite complicated with 30 pages of rules. To win this game, you need to carefully research and carefully arrange your military resources in the beginning. This is also a pretty effective brain training game.
How To Play Axis & Allies