Uno FLip is known to be a hugely expanded version of Uno with two playable cards that offer many surprises. On the Light side, the gameplay is no different from a regular Uno deck with simple rules: Play cards of the same color or number, and use the function of special cards so you are the first to run out. post and win. The winner will shout "Uno" when there is only one card left.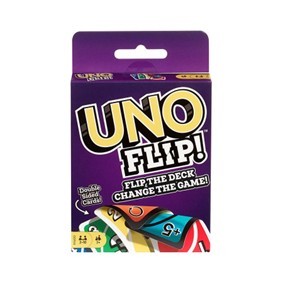 Year published: 2019

Number of players: 2-6

Age: 7+

Time: 45 minutes

Genre: Family - Tactic
However, most interestingly, Uno Flip brings the appearance of the "Flip" card - upside down - and true to its name, you will flip the hand in your hand and a whole bunch of draws to play at Dark (dark) face. In terms of gameplay, it is still similar to the Light side and the regular Uno set. However, in this aspect you will find many special cards that have great functions, providing a more intense and "inhibiting" table, such as the +5 card (forcing the player to continue to draw 5 cards). cards), the Skip Everyone card (ignoring the turns of all other players), or the Wild Draw Color Card (the next player must draw until they have a card of the same color specified).
As a result, you will experience an extremely interesting and unpredictable "battle" of cards, for example when you are close to winning but end up being Flip - and the whole situation changes. change. In addition, you can see the back of the player's cards - an interesting and useful point if someone plays the Flip card.
Uno in my opinion, it's like a national game, because everyone knows and plays this game. However, sometimes I expect something different, and more innovative than the regular version, and Uno FLip is all that I look for and look forward to.
In terms of design, the card is designed with two sides to be played in two directions, and the Light (light) side is no different from the regular version, and the Dark (dark) side is a deeper color scheme, and I prefer the Dark (dark) side, probably because it looks fancier and the color is different than usual.