In 2004, Alan R. Moon released his simple game of train routes. It has become a household name among board game players and is one of the most prominent games in the board gameverse.

Ticket to Ride has been a household name ever since and has sold an incredible number of copies. It was also one of those games that helped push the hobby out of the Hasbro/Milton Bradley shadow and into the modern era of board games.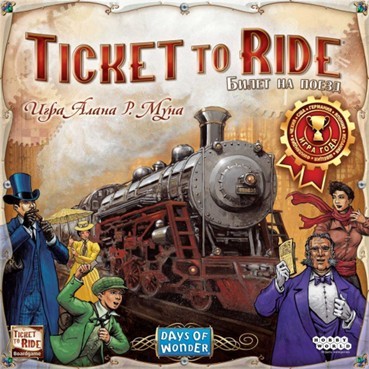 Production time: 2004

Number of players: 2 - 5

Age: 8+

Time: 30 minutes

Genre: Strategy
The game succeeded in portraying a very realistic train-era Europe. The long, crisscrossed tracks spread across the continent, connecting all the cities, and creating a very bustling atmosphere. Especially if you have ever been to Europe, then after playing the game, you will want to jump on a train like this to travel around the ancient and beautiful Western cities like Paris, Lisbon, Madrid, etc. ... In addition, you can also enjoy the feeling of being the owner of a rising railway company, trying to compete for the "most attractive" routes during a period of extremely explosive Industrial Revolution. active and urgent.
My attraction in this game is the feeling of excitement when I hit a series of cards of the same color, and arrange the corresponding number of my ships on the map. Seeing its colored road getting longer and longer is very pleasing to the eye. The funniest thing is that when the game is over, all 5 colors cover the roads and stand out on the map - it looks good.
How to Play Ticket to Ride