The board game Camel Up revolves around the race of camels. Their movement depends on the roll of the dice inside of the pyramid that randomly rolls a die. A race will end when all 5 dice have been rolled out of the pyramid. And the lap will end when a camel reaches the finish line.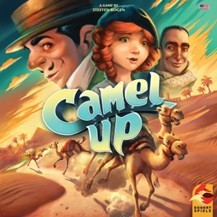 Year published: 2014

Number of players: 2-5

Age: 8+

Time: 30 minutes

Genre: Family - Strategy
So, how to win this camel race? You are one of the nobles participating in this race to earn money. So if you are the one who earns the most money after the lap, then you are the champion. You will receive money every time you roll the dice in the pyramid, bet on the race correctly, or correctly predict the camel to finish at the end of the lap.
The first compliment for Camel Up must be for the design department, because this is one of the games that made me scream when I first saw it, with a very detailed and beautiful pyramid model. It is also an important detail that affects the game because this will be the place where the random dice are rolled to start the exciting camel race.
The next point is the camel model, made from solid wood and smartly designed to suit the game content, when the camels are in the same position, they will overlap, and this design prevents them from falling during the move, this is a very commendable effort of the manufacturer.
The minus point is, that you are like a person sitting on the observatory of the race with a lot of luck factors, so it will not be as exciting, because experiencing it yourself will be more fun than observing. But after all, this is a light game, highly entertaining, and suitable for playing with friends and relatives.
Let's Play CAMEL UP | Board Game Club