Have you played too much UNO, or Coup and are looking for more choices at the end of the day? I recommend The Mind, a very cool board game just released in early 2018. This is a cooperative card game that must pass all levels together to win, but the player is not assigned next to each other.

The Mind is a family board game by Austrian designer Wolfgang Warsch, whose co-author The Quacks of Quedlinburg and That's Pretty Clever were nominated for the 2018 Game of the Year award.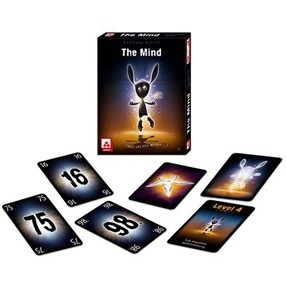 Year published: 2018

Number of players: 2-4

Age: 8 +

Time: 45 minutes

Genre: Tactics - Interactive
The difference between The Mind and current card games is that in the gameplay, players cannot communicate with each other verbally, cannot discuss their cards, "do not share information, do not secret sign". When a player has a lower hand than the one played, all stop, discard all cards lower than that number, lose one life (start playing with a life equal to the number of players) and continue playing.
In addition, all have very useful shuriken, a person who wants to use it needs to signal to other players (maybe raise your hand, put your hand on the table…) to vote. If the whole table agrees, everyone turns their lowest card face-up and continues. A shuriken is a powerful tool in the game that not only helps you remove cards from the game, but also gives you more specific information about the cards in everyone's hand. For example, if a player discards 48 after all agrees to use the shuriken, it also means that none of the cards in his or her hand are less than 48, the same goes for everyone else.
The Mind is light, stressful, and highly entertaining, moreover, it is very compact and convenient, we can easily take advantage of a few games while waiting, queuing, or doing a few warm-up games. brain before entering more complex board games.