The gameplay of 5-Minute Marvel is highly appreciated for its simplicity, ease to understand, quickness to play, and taking less than 5 minutes to complete the task.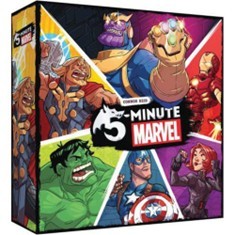 Year published: 2022

Number of players: 2-4

Age: 8 +

Time: 45 -60 minutes

Genre : Tactics - Interactive
Each player takes on the role of one of Marvel's 10 favorite heroes. With each SuperHero, there will be different special abilities that each player must discover and exploit to be able to defeat the tough Super-Villains. Solve as quickly as possible. Heroes win if they complete the quest and defeat the Villain within 5 minutes.
In terms of design and drawing, it is certainly not too strange to everyone, especially when the movies about Marvel superheroes that hit cinemas a decade ago, are taken from the original. Marvel comics, familiar characters: Captain America, Hulk, Iron Man,... Needing colorful cards in hand feels like reading a Marvel comic book.
And you will feel even more excited if you start the game. The game has a lot of characters and functions to choose from, with each play the players will quite enjoy holding on to each different character and their immediate challenge will be Evil with increasing difficulty, ending the war with one of the greatest villains Marvel has ever created, Thanos. You will have to pay attention to each character's strengths to use their abilities appropriately, solve crises from the cards Crysis creates, and especially each superhero has its own ability to overcome. control a few other villains. And the beauty of the game is that you won't have any time to think, everything seems to be a reflex, a decision that can change the course of the battle.
Simple game rules, and an easy-to-understand storyline suitable for everyone, including children, will be extremely interesting if the whole family plays together, right?
In short, from the comments of many previous players, most people think that 5-Minute Marvel is one of the best games in the real-time genre in recent times, not disappointing the fans. of the Marvel universe. A game with a constant tempo that makes you unable to stop for a minute, increasing enjoyment in proportion to the difficulty of the game, and it will be difficult to turn down an offer to continue playing once you have lowered it. get one of Marvel's 6 Villains.
How to Play the 5 Minute Marvel Board Game