In a simple game with cards and a variety of tactics, interesting things are waiting for you. One side is a game for groups of 4- 7 people and 1 side is a game for 2 people. The directivity and detail are much more enhanced than in the previous version of the game due to the hidden cards that the player cannot calculate, making the course of the match unpredictable.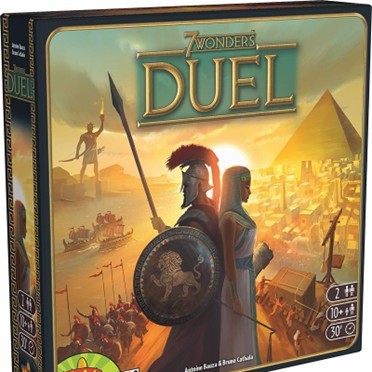 Year of manufacture: 2015.

Number of players: 2 - 7

Age: 10 +

Time: 30 minutes

Genre: Construction -Strategy - Family
As the name suggests, 7 Wonder Duel is a one-on-one battle between two players, with only one winning in the end. You and your opponent will be the heads of an ancient civilization. Build a powerful military to be able to win any war? Research, search for the ultimate scientific invention? Or even promote a strong economy through markets, ports, and other trade routes? And above all, to build a magnificent wonder that brings you fame, greatness, and glorious victory?
The strong point of 7 Wonders Duel is that it is fast to play, but that does not reduce its drama. The game has a very high replay value, because of the variety in its initial setup and its "could do better" feel. For a two-player fighting game, 7 Wonders: Duel did the best it could. It's dramatic, interactive, competitive, and "thinking ahead". If you like the 7 Wonders series or like 2-player fighting games with a lot of strategic depth, you can consider 7 Wonders: Duel!
7 Wonders Duel - How To Play